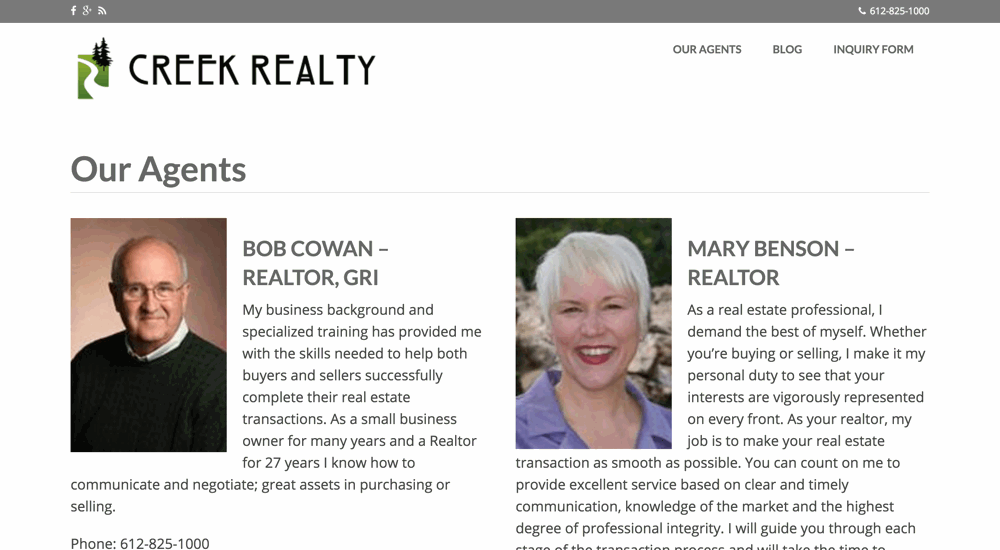 Real estate agent Erik Laing contacted me for help in setting up a new website for Creek Realty of Minnesota. As a marketing and SEO expert, Erik wanted a modern WordPress site with IDX Broker and Google Analytics integration, and he wanted to get it up and running as soon as possible.
After some research, I suggested using the Equity Framework. It was tailor-made for IDX Broker integration, and it offered great options for customizing the look and feel of pages through custom CSS and shortcodes based on the Foundation grid system. This would be great for Erik, who has some experience with HTML/CSS and would be able to continue tweaking and customizing the site on his own once the basic building blocks were in place. It would also be a cost-effective choice with quick development time and IDX Broker fees waived with purchase of the framework.
On New Year's Day, I installed WordPress, the Equity Framework, and the Open Floor Plan child theme on Creek Realty's web hosting service. I built the home page, agents page and contact form and set up the menus, header, and footer. We didn't have a copy of the logo that fit the dimensions needed by the theme, so Erik and I worked together on a new version of the logo using Pixelmator.
I also added Google Analytics to the site and wired up IDX Broker. We created a wrapper and tweaked the CSS so that search pages on IDX Broker would have the Creek Realty header and footer, and major page elements would use colors consistent with the rest of the site.
By the end of the day, we had a solid draft of the site in production.
Technologies Used:
WordPress
HTML/CSS
Equity Framework
Pixelmator (working with images and logo)
Direct Admin dashboard (WP install and deployment)
Links: